LINDA NEXT SUR
Elegant and versatile, ergonomic and functional, with a lifting capacity of up to 300 kg, LINDA NEXT SUR is Tecnodent's premium chair for daily outpatient surgery.
It offers a wide range of accessories to meet the most advanced and demanding needs of professionals in this field.
The chair complies with the essential safety requirements as prescribed under the European MDR 2017/745.
The configuration proposed here includes:
Stainless steel lateral tool holder bars
To accessorize the chair with the tools of choice.
Adjustable surgical rotating armrests
With a supportive shape and soft-touch finish, offer excellent ergonomics thanks to the possibility of height, angle and axis adjustment.
COMFORT wide multi-articulated headrest
Featuring a large support surface in line with the backrest and a multi-articulated mechanism that allows it to be placed over the backrest (for patients of short stature), it also allows the head to be positioned at a negative angle, for operations that require the surface of the neck to be exposed by placing it under tension.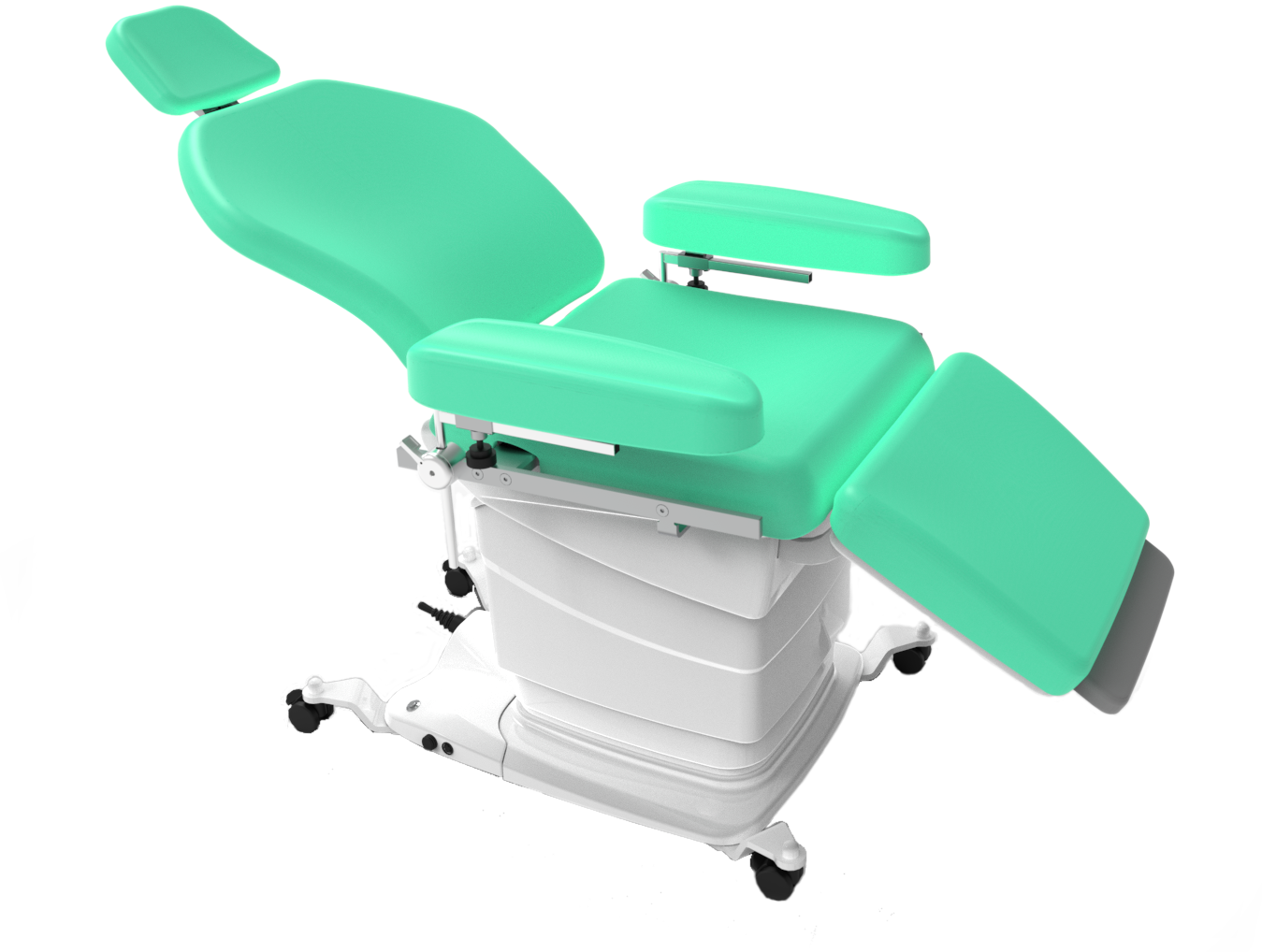 Standard features
Complete symmetry for right – or left-handed professionals
Electromechanical lifting, lowering and backrest tilting
Backrest movement synchronized with leg section
Automatic extensible PU foot section
Independent Trendelenburg movement
Automatic built in programs for patient positioning: table, Trendelenburg, rinse, last and zero position
3 operator profiles with 3 programmable positions each
Safety security STOPS on backrest, legrest and controls
SLOW MODE feature for precise movements
Maximum lifting capacity 300 Kg
24 DC linear actuators
Soft start & soft stop
Joystick control
Double-articulated headrest VALE
Standard molded upholstery
RAL 9003 painting
Different PU and fabric colors
Options
Independent leg section
Different headrests available according to specific treatment needs
Seamless memory foam upholstery
Handmade soft-foam upholstery
Handmade soft-foam upholstery with contrasting color stitching
Backrest motorized height adjustment
Wheels
Rotation system around the vertical axis under the chair base (320°)
Backup Battery
IR remote control
Children pillow
Leg section foot protection
Stabilizing plate
Stainless steel adjustable hydraulic serving cart
Adjustable surgical rotating armrests
Small side instrument tray with chair connection
Different chair painting colors
Articulated arm with large instrument tray
LIGHT multi-articulated headrest
COMFORT wide multi-articulated headrest
Bracket for lamp and/or tray connection
Paper roll holder (roll width 45 cm)